Choosing a bath for your new or renovated bathroom is not quite as easy as it may seem at first glance. The modern technologies of bathroomware manufacture mean there are now a huge range of bathtub types, sizes and materials from which to choose, to create the exact style and mood you want. And of course, the greater your choice, the greater the consideration required.
To simplify the process a little we suggest looking at different types of bathtubs under two key headings - type of installation or physical features of the bathtub and 'bathing experience' which is the sensations your new bath engenders once installed such as how great it looks in situ and how it feels to use.
Let's start by looking at the range of bathtub installation types available – the physical characteristics of the bathtubs.
Types of Bathtubs: Installation Types

In essence there are four main categories of bath. The first, freestanding bathtubs are completely self-contained, and literally stand on their own in the room, usually with space all around. These bathtubs tend to be made from our beautiful, functional and very strong solid surface Aquatex™ stone composite material using dual wall architecture over a steel support frame, for maximum rigidity.
Freestanding Bathtubs
Good examples of this kind of installation include our stunning Spoon bathtub which comes in white, black and our wonderful new bronze color, our Emmanuelle, Arabella or our Sensuality models. A number of these bathtubs come in several sizes to accommodate different bathroom types and dimensions.
The other main material we use for our freestanding bathtubs is our premium grade Lucite™ acrylic. Here again we offer a large selection of styles from the very attractive, clean lines of our Gloria model to our delightful Purescape which is available in white and sophisticated white with a black exterior.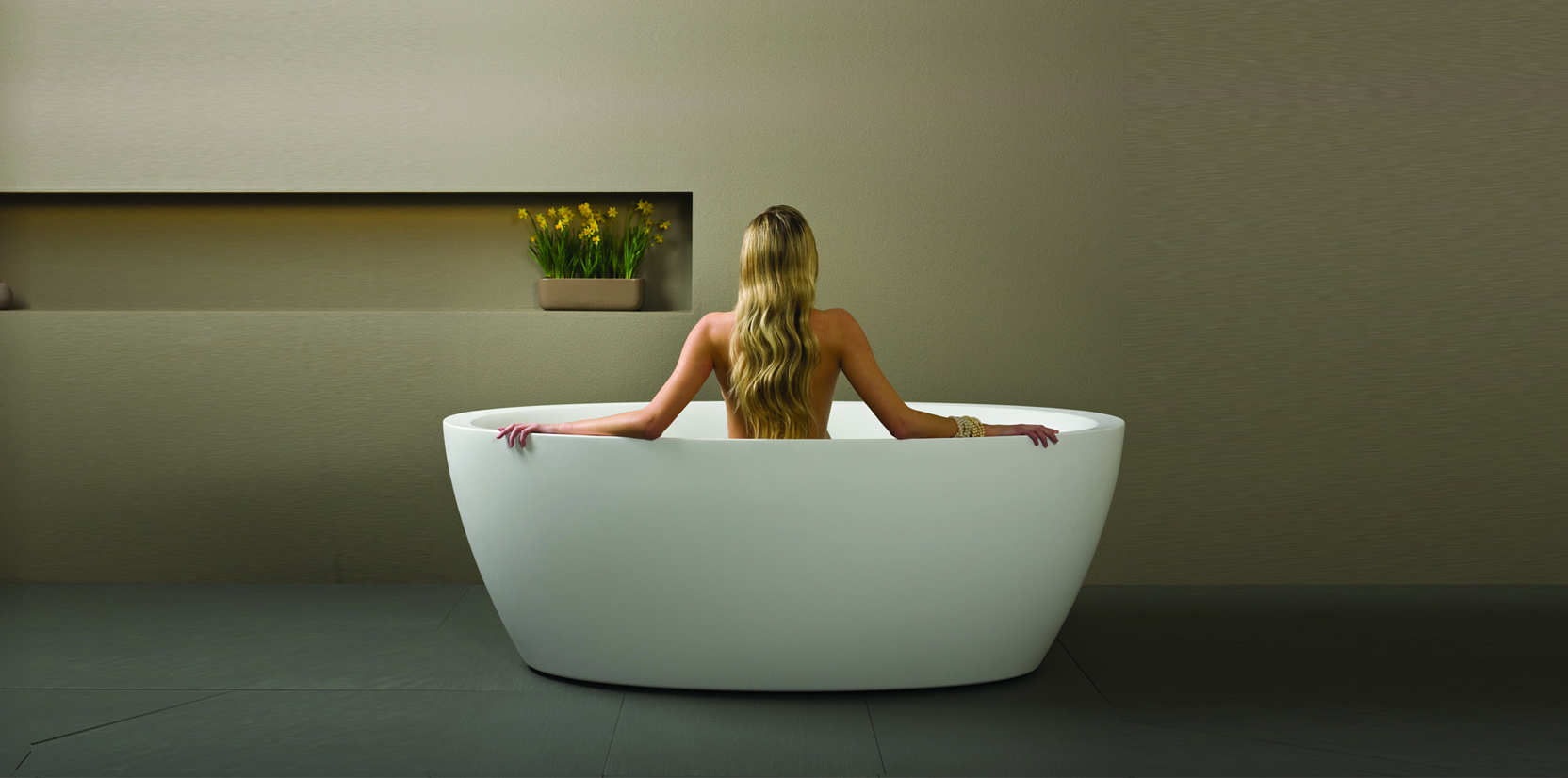 Our freestanding acrylic range also includes a number of circular tubs which offer additional features such as jetted massage such as our Pamela model, which by the way also comes in an outdoor bathtub version – wouldn't that be great?
We even offer acrylic circular bathtubs with their own water heating system such as our Infinity model. This is a perfect solution for those who love to linger in their tub as here you don't need to rely on your hot water tank to keep the bath warm, the bath does it for you.
Freestanding bathtubs have many advantages - they always look amazing, making a dramatic focal point for your bathroom which can be made even more stunning by your choice of tapware. They come in a different types and styles from traditional to modern, square, oblong, oval and round shapes and sizes to suit your bathroom dimensions. They do generally take up more room than a back-to-wall bath model, and will require a larger expanse of solid waterproof flooring.
Corner Bathtubs

Corner baths are a very ingenuous way of putting the available space in your bathroom to best use. Often corners can be difficult to design around, but our corner baths turn those spaces into luxurious bathing solutions. In most cases the size of bath is maximized by using the full diagonal width of the corner, leaving the remaining corner space for handy shelving.
Our Olivia models demonstrate this great use of space very well, but our range includes many other corner options such as our Anette model, our luxurious Suri circular model and our very practical walk-in Baby Boomer model with an opening side door, ideal for bathers with more limited mobility.
Built-In Bathtubs

A built-in bath is exactly what it sounds and can either be accommodated in a cabinet surround which allows you to customize the appearance of your bath to suit specific décor requirements. Or you can opt for the ultra-luxurious looks of a drop-in undermounted style, sited in a floor space or plinth. These baths all offer extra deep dimensions for relaxing soaking. Take a look at our Lacus model which is also available as an indoor or outdoor bath, or our Allegra model, both with air massage.
Back-to-Wall Bathtubs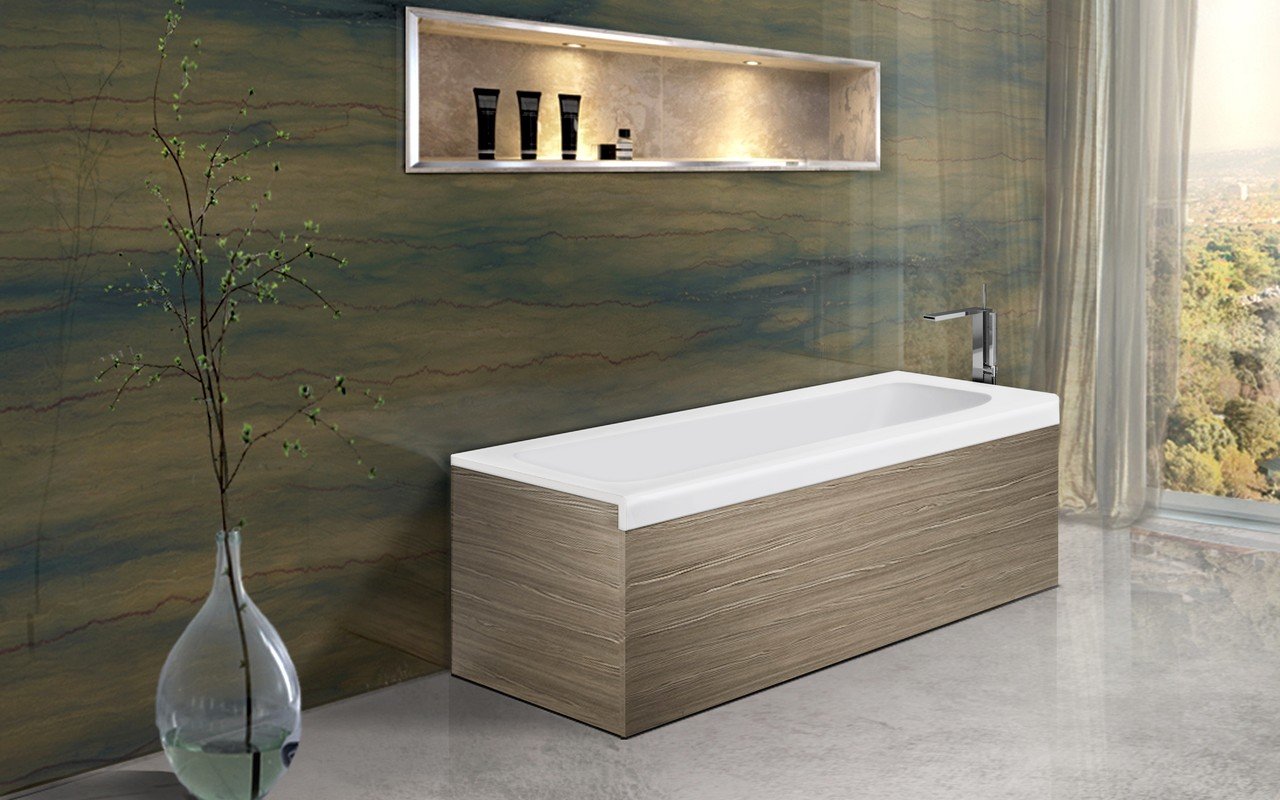 This type of installation is also ideal where you have more limited floor space. It allows you to enjoy generous dimension in a range of models in solid surface stone with light or dark wood decorative panels such as our Pure range as well as models such as Sincera.
A number of our freestanding models such as Sensuality and Arabella also come in versions suitable for back to wall installation, with the appropriate plumbing configurations. Architecturally a number of our freestanding baths can be positioned close to a wall where space is at a premium, such as our Lullaby Nano.

Types of Bathtubs: The Bathing Experience
At Aquatica, we are devoted to delivering a full range of cutting edge bathing options and our research and development and design teams spend a great deal of time working on the look, feel, ergonomics and added touches to make your bathing experience complete.
A quick run-down of these factors will also help you make your decision about which bath.
Soaking tubs
This type of bathtubs are those that invite a relaxed and more languorous approach to bathing. You are not there for a quick wash, but instead for a deep, rejuvenating experience that eases tired limbs, soothes the body and the mind.
These types of bath tend to be generous in size, particularly depth and can often accommodate two bathers. They will be designed around ergonomic principles of body shape and support for the neck and back such as our wonderful Emmanuelle models which feature a raised neck end to the bath. Models such as our Purescape range, Lullaby or Corelia all conjure up a picture of bathing bliss.
Of course, you can also choose to go one better with our seated soaking tubs. Top of this list is our unique True Ofuro tub. Inspired by ancient Japanese bathing traditions, this superb tub and its little sister the True Ofuro Mini are definitely the kind of bath that demands a "Do Not Disturb" sign. Equipped with their own internal heating system, they are made for seated soaking for as long as you want.
Massage and Chromotherapy

If you want an even more hedonistic experience, take a look at our range of baths with additional, luxurious features that add another dimension to you bathing. These include our pre-installed Relax air jetted massage system with variable speed control, which gently deliver thousands of warm, healthy, air bubbles from multiple jets beneath the surface of the water. Very welcome after a big day gardening, a long day at work or after playing your favorite sport.
Nor do this bathtub type only come in larger sizes. In fact we offer a full range from our compact freestanding Sensuality Mini Relax to our distinctive triangular Trinity model and up to larger jetted models such as our Allegra jetted spa.
A number of our baths also include the previously mentioned Tranquility internal heating system which allows you to enjoy unlimited hot water that is thermostatically controlled, without reliance on your household hot water system.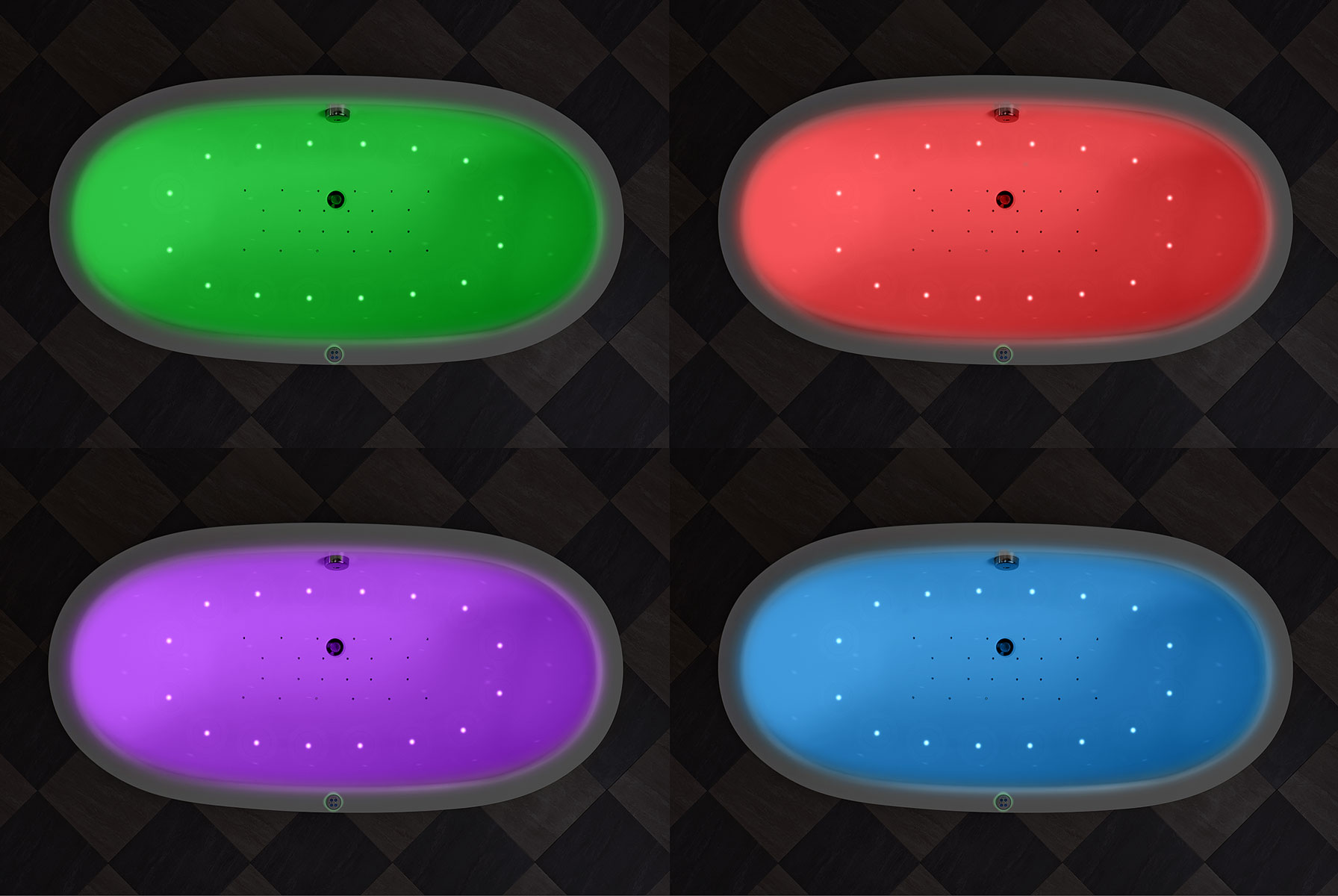 Last but by no means least is our pre-installed chromotherapy lighting system that employs light in the form of color to balance and harmonize the body. A series of up to 40 low-profile LED lights fitted under the water provide nine colors in slow rotation or fixed color mode to soothe the body and enhance energy levels. Models such as Pamela, Infinity and Dream Ovatus as well as our outdoor Zen Spa range all offer this feature.
The Choice Is All Yours
Clearly, a bath is not simply a bath. You can choose types of bathtubs, size, shape, style, look, color, features and additional benefits such as air massage and chromotherapy to make your bathing experience truly out of this world.
In fact, with so many options you are spoilt for choice, which is why we recommend you take the time to really explore our website and check out all the features you can include to make your new bathtub exactly what you want in every way.