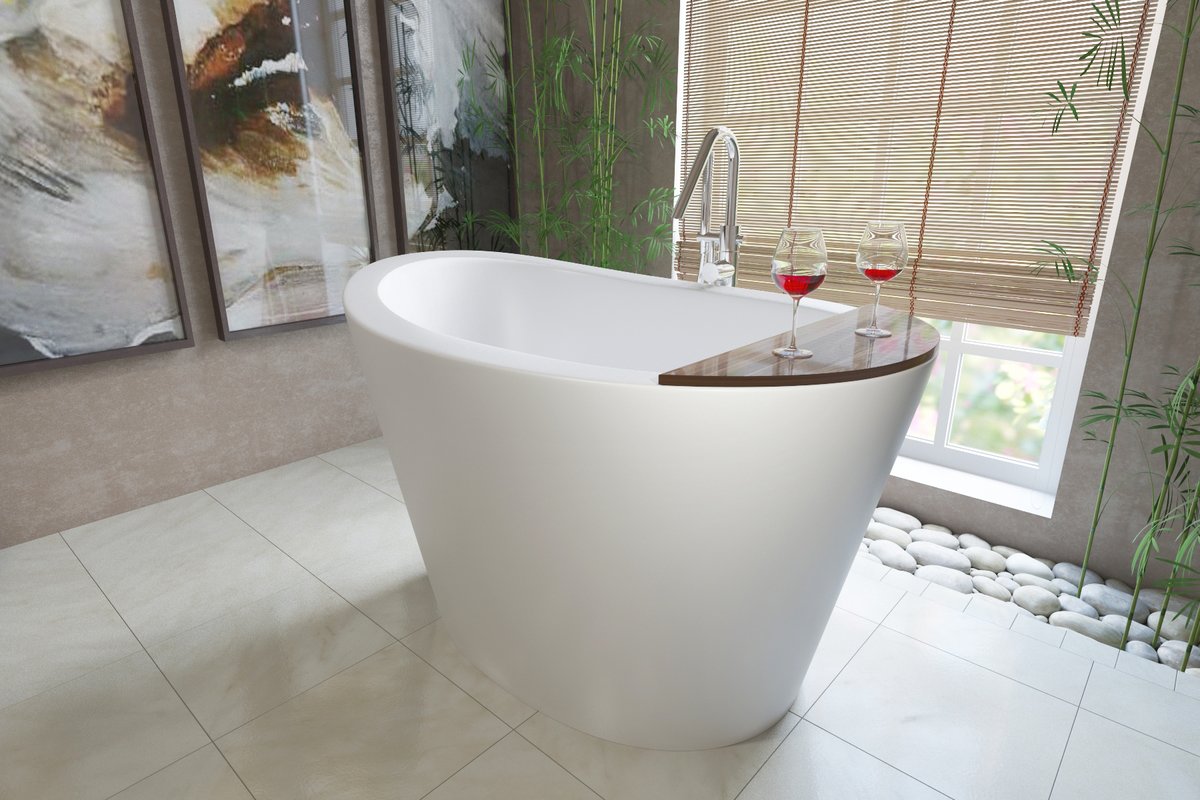 When it comes to home design and especially bathroom design, the latest craze is using stone and natural materials in the bathroom. Cleverly and innovatively incorporated into your bathroom, with everything from stone or pebble walls and floors, to how you should install a solid surface bathtub or washbasins – you can instantly create a textured and earthy look into any bathroom by adding in these simple au natural elements to your bathroom. Not only can these stone and pebble ideas, bring style and sophistication to your bathroom, but they can also be extremely practical and functional for a bathroom's needs. By adding pebble tiles around your freestanding bathtub you'll create a non-slip surface, plus your feet will be getting a gentle massage before and after every bath session!
Creating a bathroom that has that earthy and natural feel to it by using gorgeous stone and organic materials can be done using many different factors and there truly is a number of different ways that you can bring stone into your bathroom. Some of the most popular ways that we've seen designers and home makers bringing that au natural stone feeling to bathroom is by adding a huge backsplash wall of stone, or a pebble floor. However, many companies, Aquatica for example, manufacture a range of utterly luscious, freestanding, solid surface bathtubs and washbasins, which have that soft and velvety stone feel to them, but are also highly heat resistant and even recyclable!
Here are some of our ideas for bringing stone into the bathroom!
Stone, Rock and Pebble Walls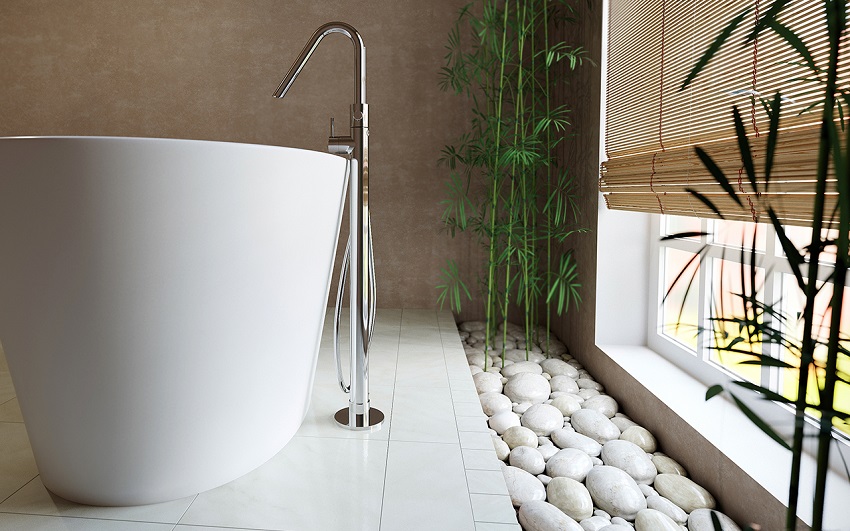 Choosing one wall or space in your bathroom to be covered with stone, rocks or pebbles is definitely a bold and superbly earthy way of bringing in that stone element to your bathroom. Essentially working a stone wall into your bathroom, can go one of two ways, huge, uneven and rustic looking rocks are strategically and gorgeously placed up a wall to give that real picturesque feel of outdoor loving to your bathroom. You could also opt for a pebbled wall, which will be easier to install and to clean, as you can get pebble sheets, which usually come in sets of 6- by 12-inch sheets, and all you do is simply attach them with a regular thin set. By sealing it off with an application of wet-look sealer, you'll also enhance the stone's color, making it stand out a lot more. You need to keep in mind that if you're going for a huge stone wall effect like one of the above mentioned ones, then you need to add in some neutral and soft elements to the bathroom, so that the stone is balanced out in the overall look. By using a lot of mirrors, and glass you'll be adding that modern touch which will also enhance and balance out the stone. A nice, large and white freestanding bathtub is also perfect right in front of the stone wall.
Pebble and Stone Tiled Floors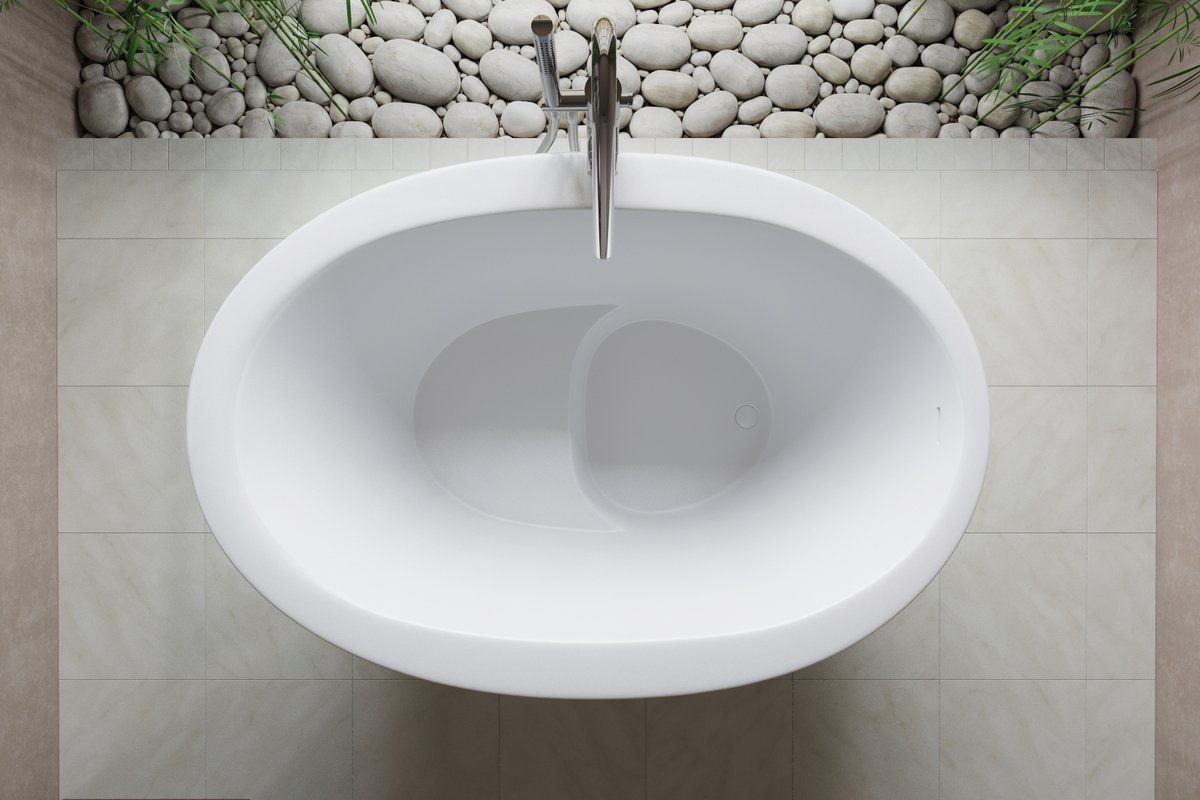 If you don't want an entire wall covered in stone or pebble, why not opt for a pebble or stone tiled floor, not only is it going to look gorgeously chic underneath your freestanding tub, or even on your shower floor, but it will also provide a non-slip surface for added functionality. Again using a lot of glass and mirror finishing's in a bathroom where you want to use a lot of pebble and stone will highlight and soften the stone, so be sure to add in those elements too. A glass shower or loads of mirrors on the wall behind the bathtub are perfect ways to do this. If you're worried about how you'll keep the stone floor in your bathroom clean, we would recommend applying a very strong and penetrating stone sealer directly after installation, and make sure you use a mild detergent on a weekly basis to keep it looking and feeling clean.
AquateX™ Bathtubs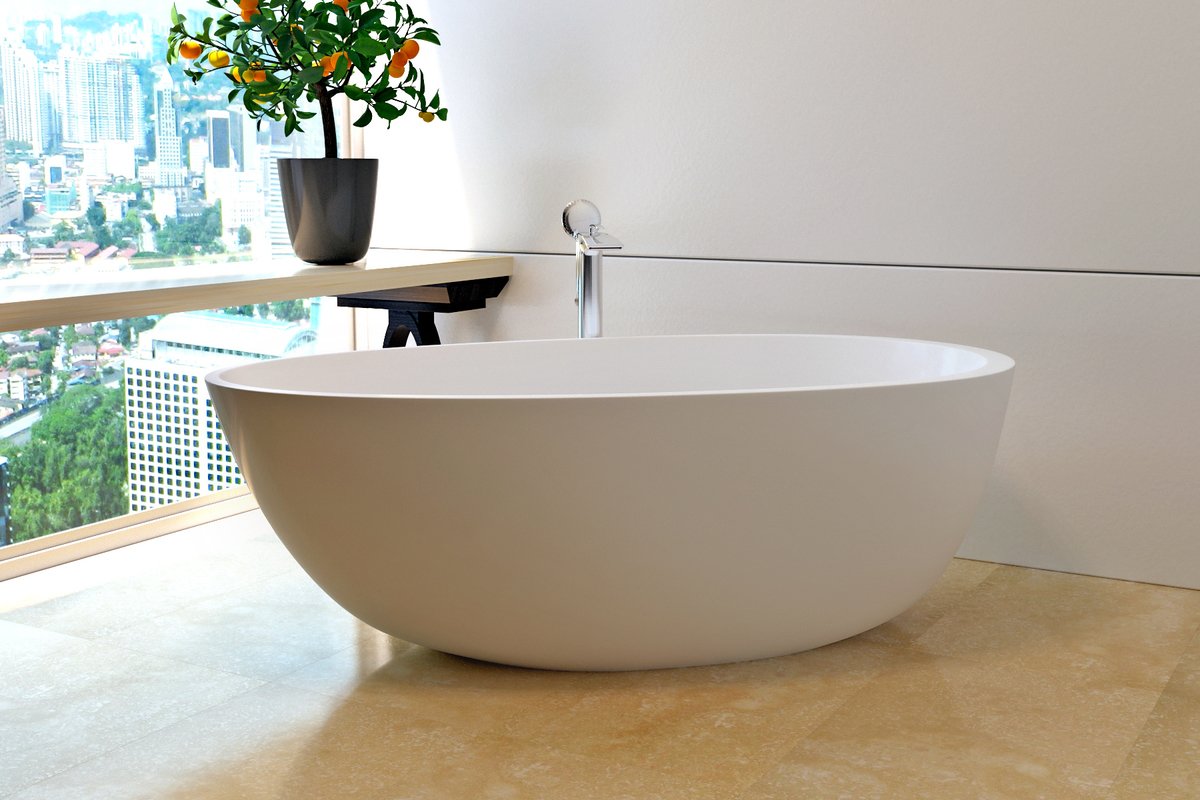 What is a solid surface tub you may be thinking, or what is a resin tub? Are the similar, well actually they are the same thing and if you're looking for a truly unique and innovative freestanding bathtub in your bathroom, then we would recommend getting one that has been designed and constructed using Aquatica's one of a kind AquateX™. The AquateX™ material used to construct these bathtubs, leaves it silky soft and velvety to the touch, and the solid stone resin surface retains heat much longer and deeper than what a real stone bathtub will, plus they're also recyclable, so you'll not only have a luscious solid surface bathtub but you'll also be doing your part in protecting the environment.