Whether your bathroom has a new and very popular freestanding tub or a traditional drop-in bathtub, it can sometimes be quite tricky to find space for all the things that you need when you're in the bathtub. Whilst your laying back in the tub, enjoying a leisurely soak, you most likely going to need to reach over and grab a bottle of shampoo, or a body scrub – this is when having a handy little side table will play to be useful in the bathroom, more specifically next to your tub. For some much needed inspiration, we've decided to allow you a peek into a few creative ideas that you can very easily put together.
First of all, you need to consider what it is that you want to reach for when you're in the bathtub. Is it the latest copy of US Weekly or a good book, or maybe you need a spot for a glass of red wine or cup of tea. Perhaps you don't have time to indulge with luxuries in the tub, and all you really need is a place to place the shampoo whilst you wash your little kiddie's hair?
Next, you'll need to think about your bathroom space. Do you have enough floor space, or could a side table turn into a side table? If you do think that there won't be space, then consider whether there is a place where you can tuck the table away when you don't need it. Perhaps under a pedestal sink or under the counter top, maybe even in the shower stall?
Chic Chinese Garden Stool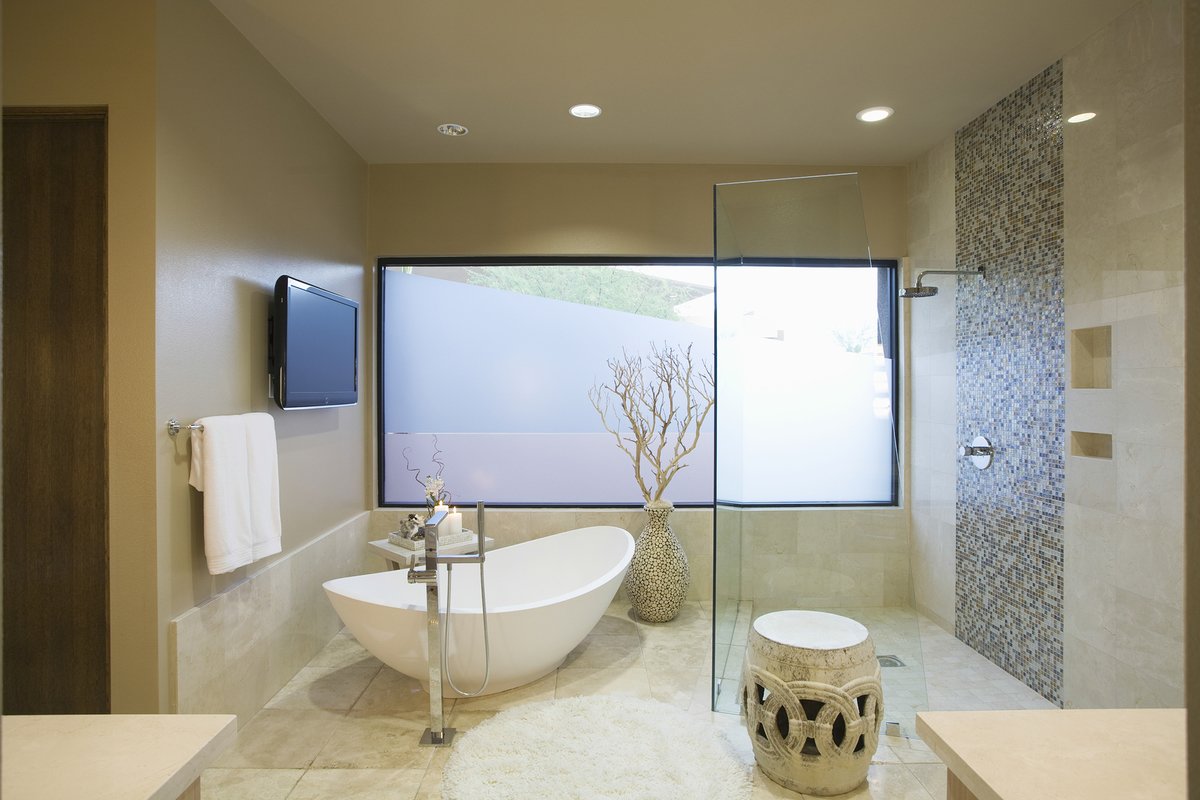 Chinese garden stools are made for the garden, as the name suggests, but designers have been adding them in all kinds of rooms in the house. The glossy finish of a Chinese garden stool is beautiful and usually has a lot of fine detail and finishes to it. This is a glamorous idea to bring in a side table to your bathroom.
An Antique Chair
The space next to your bathtub is a perfect place to pop in a piece of antique furniture. There are many options when it comes to seeking out an antique chair or stool for your bathtub side table, from old wooden chairs in their natural form, or even giving an old chair some new life with a white wash, or coat of gray paint. It's a fabulous idea if you have kids too, as it can serve as a seating spot for you to supervise the kids while they bath.
A Fabric Covered Stool
Adding a small stool to sit next to the tub can also be a great way to brighten up a bathroom that's decorated in all white. It also makes for a great DIY project as you can find a rather cheap stool from a thrift store and cover it yourself. Choose a material that will withstand the humidity in a bathroom, perhaps an indoor-outdoor fabric or terry cloth. You could also opt for a towel material for more absorbency, choose an Egyptian cotton for added glam and functionality.