Spring is in full bloom and summer is just around the corner, so people are slowly gearing up to get ready for pool time, but summer time also means nice evenings, when the weather is perfect, not at all cold, and not boiling hot – which means hot tub, hot tub and more hot tub time! Sure, most people think it's a luxury having a hot tub in your home, but lately, companies like Aquatica, are manufacturing amazing jetted bathtubs and whirlpool tubs, which easily fit into pretty much any home bathroom. Having a jetted bathtub in your home, will help you create a space, where you can really unwind, distress and relax – every single day!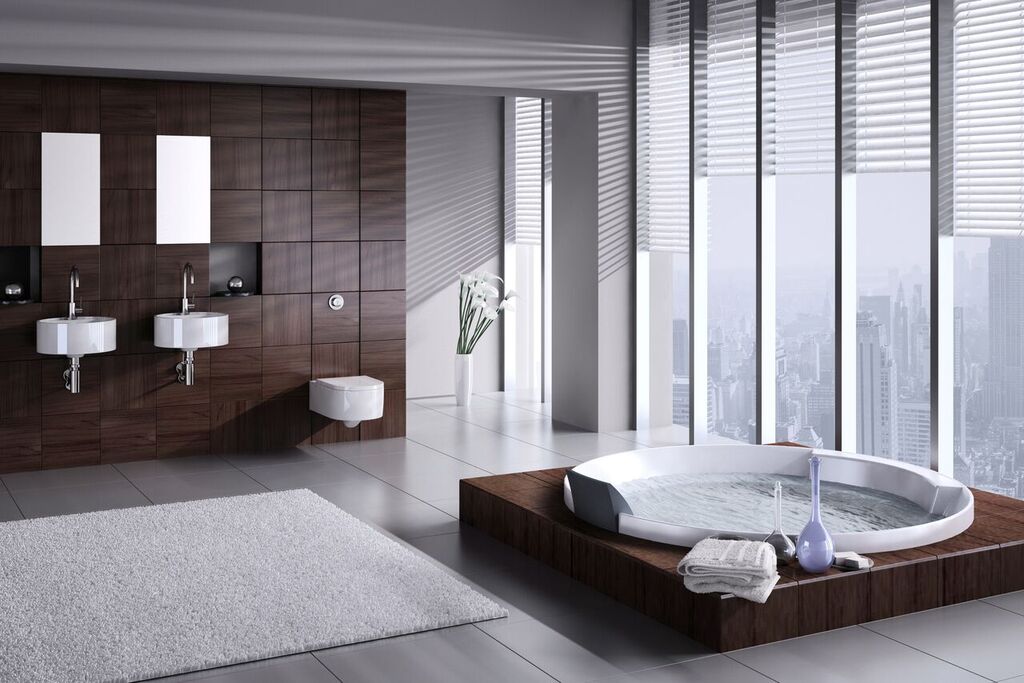 If you have a big enough room in your home to turn into a relaxing, sanctuary home based spa, then we definitely recommend doing it, but do it properly, with all the right finishes, so that you don't only have a mini-home-spa but also a completely functional bathroom. We love how the design of this bathroom has the jetted bathtub built into a wooden finish, step up, leaving a ton of room for you to place towels, glasses of wine, magazines, and pretty much anything you please! With to matching wall mounted sinks and a slick and almost unnoticeable toilet, this is the perfect bathroom for anyone who has a busy lifestyle, but still wants the luxury of a home spa.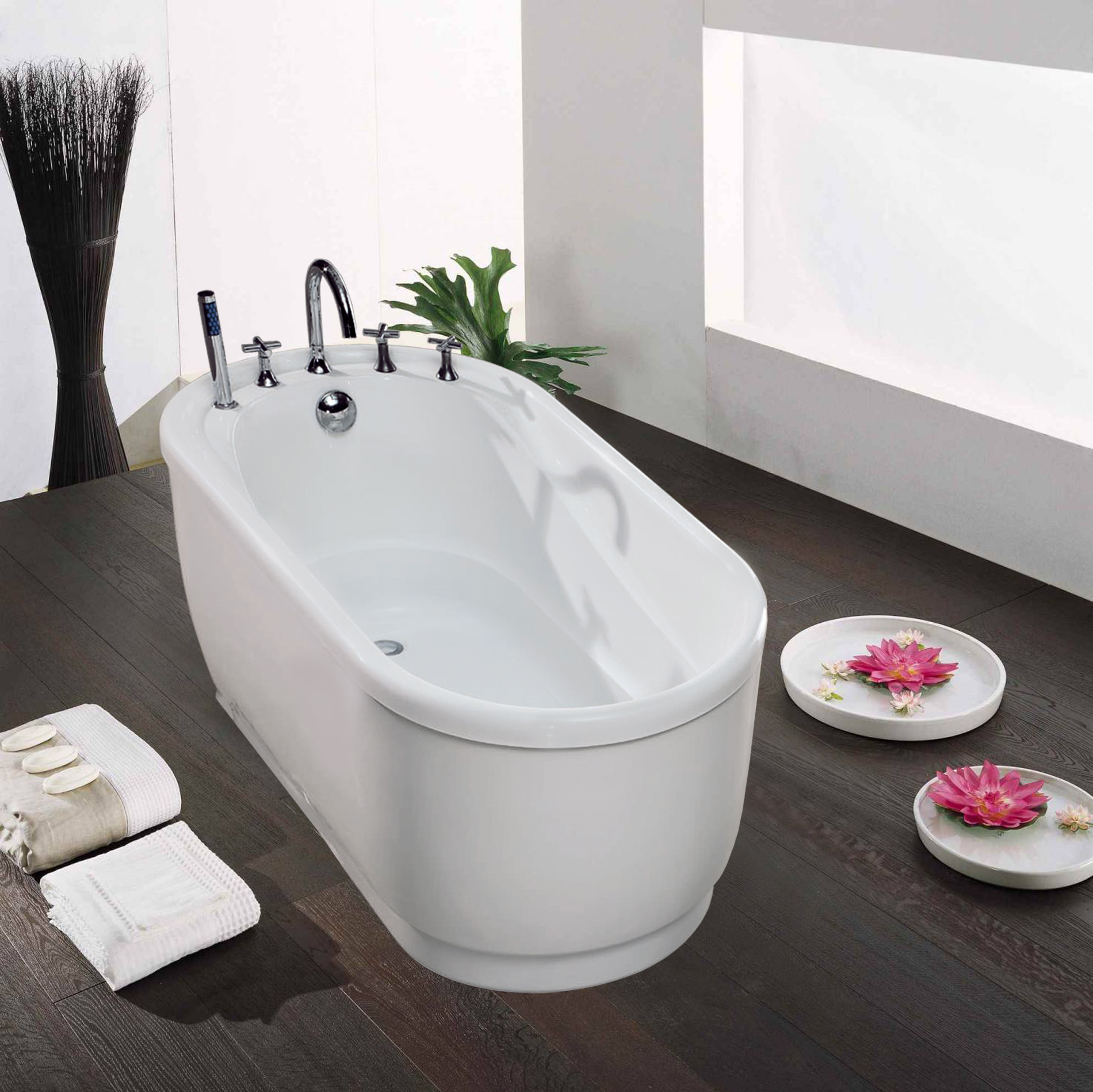 This gorgeously sophisticated and distinctly unique, freestanding jetted bathtub, is small enough to fit in a medium or even a small sized bathroom, but is also big enough to lounge, sit back and enjoy the relaxing air massaging bubble that stream through! What's even better is this jetted bathtub's superbly rustic white stone color will stand out as a statement piece in any bathroom. With perfectly placed seating and arm rests, we could see ourselves sitting in here for hours.
If you don't have an entire room to turn into a home spa, and only really have your small apartment bathroom to work with, but still want that home spa experience in your own home, then this corner jetted bathtub is the ultimate and absolutely perfect hot tub for your bathroom! With air massaging jets, and calming LED lights, this jetted bathtub is perfectly soothing for any small bathroom.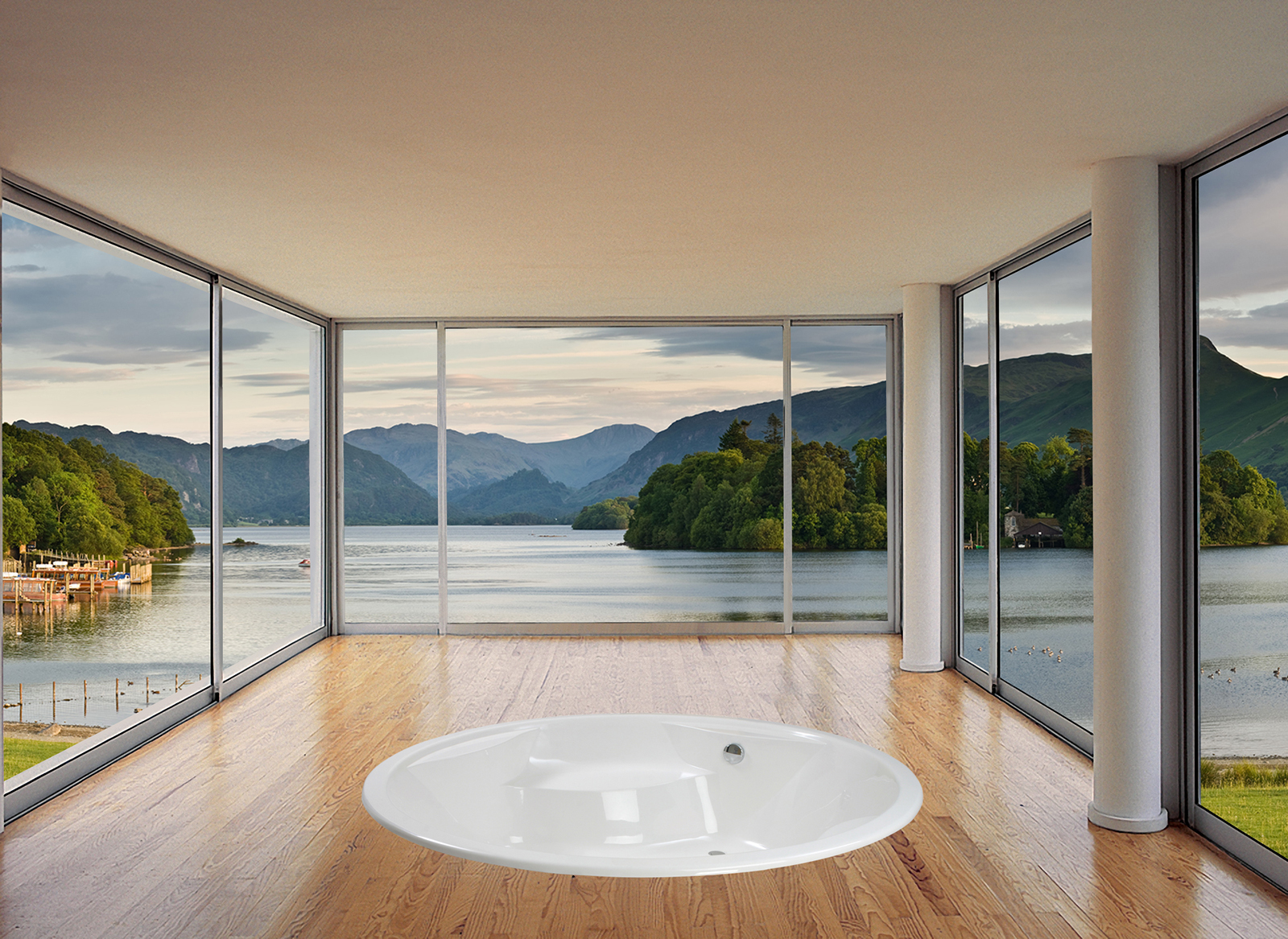 We just can't get enough of these built-in whirlpool bathtubs. These built-in jetted bathtubs are the perfect home spa tubs to use in a room that you've cleared our especially for your very own sanctuary. The air massaging jets are soothing, calming and very effective on your muscles after a long and stressful day at the office. The best thing about having a jetted tub this deep, installed into the floor is that it's going to feel like you're stepping into a pool every time you get in! How can you resist this?
When you make the decision to have a jetted bathtub in your home, you'll quickly realise that not only is the tub going to enhance the appearance of the space you choose to put it in, but it's going to reward you with hours of pleasure in your very own home. Adding a hot tub into your home is actually one of the easiest things of having a home based spa, so take your time choosing out the jetted bathtub you love the most, to suit your style and bathrooms decor!