Types of bathtub materials
There are a wide range of bathtub materials from the super expensive, opulent Hollywood style one-off baths which sit outside most people's budgets, to the porcelain-coated baths at the lower end. All have different benefits, costs and pros and cons. Let's look at the mainstream materials available in a little more detail.
What is a AquateX™ Composite Stone?
Aquatica's unique composite stone product, AquateX™ is a type of bathtub material which was created by our in-house research and development team to bring together the properties of aluminum-rich organic rock with special, US-made, high-tech resin that delivers a unique solid stone surface. This patented formulation of 60% natural, aluminum mineral derived from bauxite and state of the art resin produces a silky-smooth exterior that is very hard wearing and very easy to maintain, with a tough, durable interior.
Composite Vs Natural Stone Comparison
Contrary to what you may think, natural stone whilst strong and durable is not as indestructible as composite stone as material for bathtub manufacturing, it can be damaged through excessive force or sudden fluctuations in temperature. Nor is it always stain, chip or scratch resistant.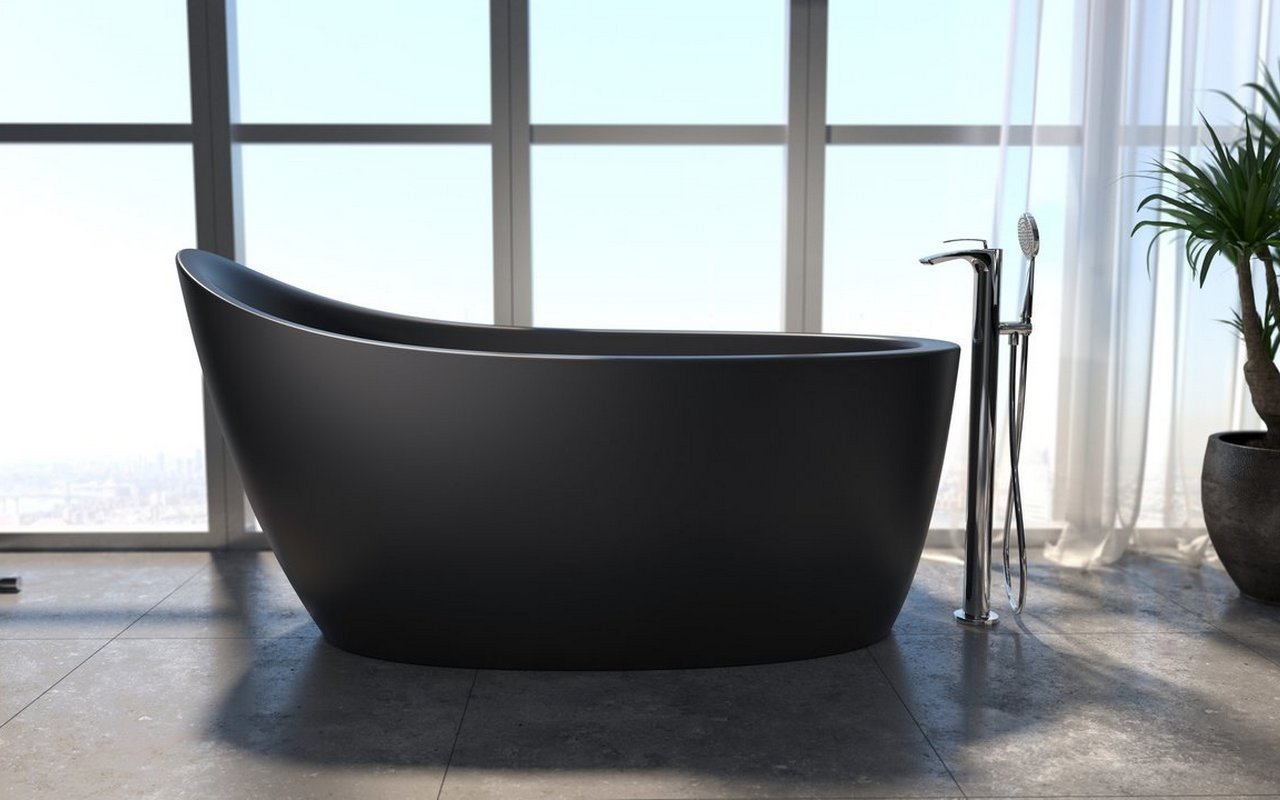 AquateX™ composite stone will outlast most other materials and is even more durable than natural stone. It is 60% natural aluminum mineral derived from bauxite, a deeply wheathered volcanic rock with the addition of resin which adds considerably to its longevity and lasting good looks. This also gives it a non-porous surface that preserves its beauty and makes it more hygienic and easy to clean, unlike natural stone which being porous, has to be sealed to prevent staining and germs.
AquateX™ is stain resistant, burn resistant, UV resistant, hard to scratch and easily repolished with Scotch Brite and abrasive washing detergent. And you may be surprised to know that like natural stone, it is fully recyclable. It also retains heat beautifully for those long soaking sessions.
Composite Stone bathtubs
The other major benefit of Aquatex composite stone over natural stone is it has incredible structural strength and integrity and can be formed into a whole range of shapes and styles to fit every bathroom décor, with even and consistent color and finish throughout. As such, our range of composite stone baths offers you a superb range of stunning statement pieces which will make you bathroom splendid.
The Natural Stone as a bathtub material
By contract, a natural stone bath requires mechanical or manual carving out to achieve its form. As it is quarried in one piece, what lies inside can be unpredictable. It will be truly unique but no two pieces will ever be the same in color or veining, should you wish to create bath and matching basins for example. It will be very special and come with a larger price tag.
One final point to consider – a natural stone bath will be considerably heavier than a stone composite bath and will most probably also require additional structural framing to support its weight.
Porcelain Baths – pros and cons
Today Porcelain is another bathtub material type and is generally used as a finishing surface over steel baths or reglazing or cast-iron baths and they are often referred to as porcelain enameled baths.
The bath is first stamped out of steel, then finished with the porcelain layer giving an attractive, high gloss finish. These porcelain-finished baths are an attractive choice for many – the finish is durable and easy to clean and treated correctly will retain its gloss for a long time. They are also well-priced bathtub material.
On the downside however, porcelain on steel baths tend to be heavier than acrylic, the surface can chip under impact which can lead to rust and they are only available in a small range of sizes and shapes.
Marmor bathtubs – Ecomarmor™
Another of Aquatica's own developments, using technology from the yachting industry, Ecomarmor™ is a cutting edge cast stone composite made from 85% marble crumbs and 15% binding composite. The bath surface is molecularly bonded to high-tech enamel using a unique vacuum casting process that results in a stunning, high gloss finish, unmatched for its surface smoothness and density.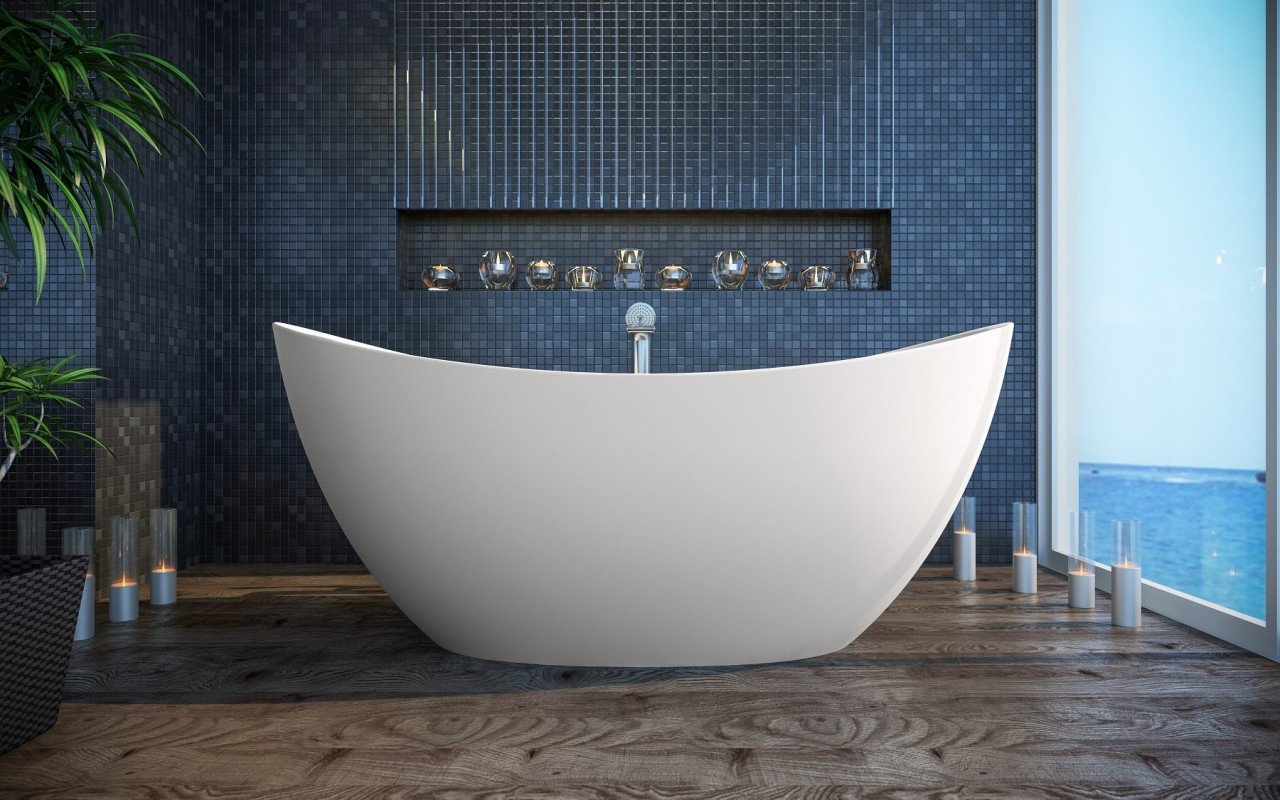 High performance characteristics such durability, superior hygiene through its unique high gloss technology, longevity of its natural surface shine which is chemo and UV radiation resistant and superb heat retention are all built in.
Wide Choice of Bathtub Styles
Whilst it comes with a higher price tag than a porcelain bath, Ecomarmor™ has many benefits, not the least of which is its ability to be formed in to all kinds of organic, and ergonomically-focused shapes due to its unique technical characteristics. This gives you a very wide range of bathroom styles and designs from which to create your personal bathing space.
Are Acrylic bathtubs good?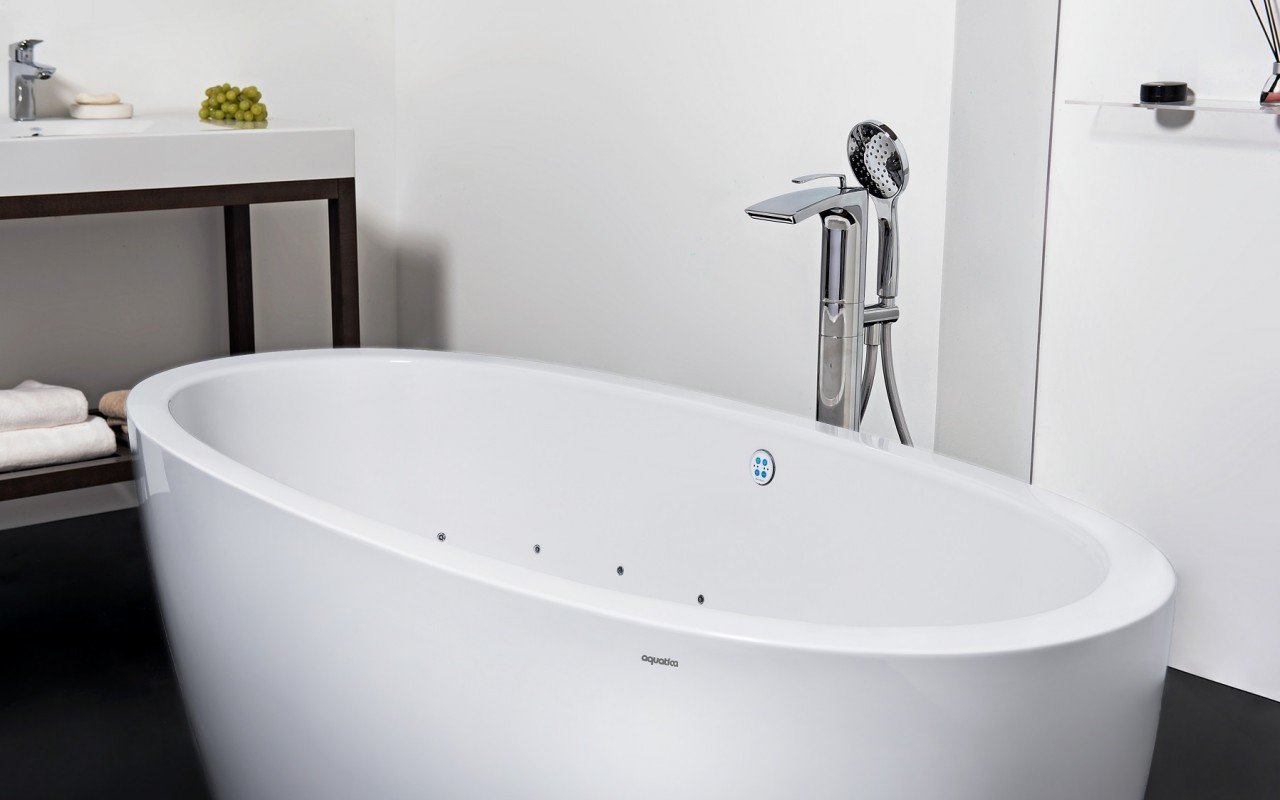 A by-product of the US space program, acrylic is today regarded as one of the most versatile type of bathtub materials available, with a long list of benefits from thickness and robustness and resistance to wear and tear to genuine ease of cleaning and minimal maintenance.
Acrylic or Fiberglass bathtubs?
Our Acrylic bathtubs are made from the highest quality Lucite acrylic to give you all the choice of form, functionality, reliability, durability and longevity you desire at exceptional value for money. The homogenous high gloss finish provides a continuous hygienic surface preventing bacteria which with regular clearing will remain spotless and shiny for many years.
Either freestanding or built-in, Aquatica's acrylic range promises luxurious good looks in a wide selection of traditional to modern styles and colors. Best of all they are lightweight and easy to install. By comparison, a cast-iron bathtub weighs around 350lbs - try getting that upstairs!
In Aquatica's case, our acrylic baths incorporate seven layers for ultimate strength and rigidity. This includes 3-5mm fiberglass internally to add hidden reinforcement within the bath's structure.
Fiberglass bathtubs - the no-frills option
By comparison a fiberglass bath is made by spraying fiberglass on to a mold, then completely this with a clear gel coat resin. This simplicity of manufacture and low cost of materials is why they are the good basic no-frills option, and the most economical. Also because of how they are made, they are lightweight and easy to install.
On the downside, fiberglass baths are thinner than other tubs which means they are less durable. The soft finish is easily scratched and cracked and whilst fiberglass can be repaired, over time they downgrade in looks. This is also why the bath is flexible and can shift, which may cause cracking of the caulking and movement of the bath on entry.
Lastly the thickness of the top resin may also be inconsistent casing uneven spotting and the color does not go all the way through so may begin to fade.
Which bathtub material is the best?
Hopefully we have provided you with plenty to consider about the various types of bathtub materials available, their features, benefits, pros and cons.
The choice is ultimately yours and like all the other decisions you need to make for this very important room, it is best decided against your checklist of wants, prioritize the things you most want from your tub then compare. Is it quality of appearance such as a beautiful stone composite bath, the unique and different shapes available of acrylic baths – and their great value for money, the price tag of fiberglass, the finish of enameled steel…weigh it all up, then make your decision wisely as your bath will be a feature for many years to come.